Skip to Content
Kitchen Remodeling at Infinite Home Improvements
There are many reasons why it might make sense to remodel the kitchen in your home.
Maybe you feel like your kitchen is outdated and it's time to bring in some modern cabinets, countertops, or tile. It's possible that as your family has grown, your kitchen doesn't serve its purpose the way it once did. Maybe by expanding your space or reconfiguring the layout it will be a kitchen that you and your family enjoy again.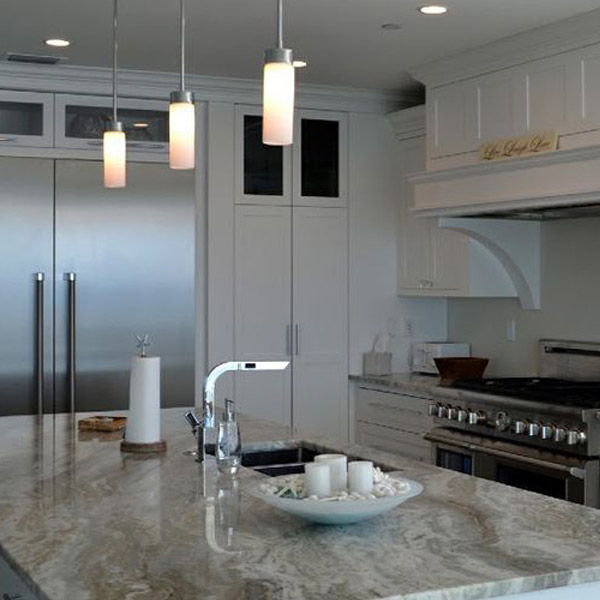 Partial Kitchen Makeovers to Full Kitchen Renovations
Looking to remodel your kitchen? Or are you just tired of your old and outdated kitchen space? You've come to the right place! Let us help you bring it to life with our expert kitchen remodeling services! Our team of professionals is dedicated to delivering high-quality work that exceeds your expectations. Our team specializes in creating beautiful and functional kitchens that meet your every need. From stunning countertops to custom cabinetry, we'll help you create the kitchen of your dreams. Infinite dreams, infinite possibilities… Infinite Home Improvements.
Don't wait any longer to transform your kitchen into the heart of your home. Contact us today to schedule a free consultation and start the journey to your dream kitchen!
Kitchen Remodeling
Whether you're looking for a complete kitchen renovation or just a few upgrades, we've got you covered. We use only the highest-quality materials and the latest technology to ensure that your kitchen looks amazing and functions flawlessly. We work closely with you to understand your vision and create a custom plan that fits your needs and budget.
Whether you're looking for a traditional, modern, or transitional design, we have the expertise to bring your vision to life. We offer a wide range of styles, colors, and finishes, so you can be sure that your kitchen reflects your personal taste and style.
Our team of professionals is committed to providing exceptional service and craftsmanship. We work quickly and efficiently to minimize disruptions to your daily routine, so you can enjoy your new kitchen as soon as possible.
Kitchen Cabinets
If you're in the market for new cabinets or simply looking to upgrade your kitchen, you've come to the right place. We specialize in all things kitchen, including high-quality cabinets that are designed to last.
When it comes to kitchen cabinets, we believe that functionality and style should go hand in hand. That's why we offer a wide range of cabinets in different styles, colors, and materials to suit your individual taste and needs.
Our cabinets are made from top-quality materials that are built to withstand the wear and tear of daily use. We use only the finest wood, hardware, and finishes to ensure that your cabinets will look great and function smoothly for years to come.
Our selection of kitchen cabinets includes both stock and custom options, so you can choose the perfect cabinets for your space. Our stock cabinets come in a range of sizes and styles to fit any kitchen, while our custom cabinets can be tailored to your exact specifications.
Whether you prefer traditional or modern styles, we have the cabinets to match. We also offer a range of color options, from classic whites and neutrals to bold and bright. Whether you're looking for a timeless look or something more contemporary, we have the cabinets to fit your style.
Kitchen Countertops
We know that choosing the right countertops can be a daunting task, but don't worry, we're here to help. We offer a wide range of high-quality countertops in different materials and styles to suit your needs and budget.
First on our list are granite countertops. Granite is a natural stone that is known for its durability and beauty. It's scratch-resistant, heat-resistant, and requires minimal maintenance, making it an excellent choice for busy kitchens. We offer a wide range of granite colors and patterns to match any style.
Next up are quartz countertops. Quartz is a man-made material that offers the same durability and beauty as granite, with even more design flexibility. It's non-porous, meaning it's resistant to stains and bacteria, making it ideal for food prep. Quartz comes in a variety of colors and patterns, making it easy to match any kitchen style.
For those who love the look of natural stone but want a more budget-friendly option, we also offer marble-look and soapstone-look quartz countertops. These materials mimic the look of marble and soapstone but are more durable and easier to maintain.
If you're looking for something more unique, we offer concrete countertops. Concrete countertops can be customized to fit any kitchen style, and can be made in a range of colors and finishes. They're durable, heat-resistant, and can be made with integrated sinks for a seamless look.
We also offer solid surface countertops, which are made from acrylic or polyester resins. Solid surface countertops are non-porous, easy to clean, and come in a range of colors and patterns. They're a great option for those who want a seamless, uniform look in their kitchen.
Finally, we offer laminate countertops. Laminate is a budget-friendly option that comes in a range of colors and patterns. It's easy to clean and maintain, making it ideal for busy kitchens.
No matter what type of countertop you choose, we offer a range of edge profiles to customize the look of your countertops. From beveled to bullnose, we have the edge profile to match your style.
Kitchen Renovation Services
Full Kitchen Remodeling
Standard Wood Cabinetry
Semi-Custom & Full Custom cabinet design and installation
Cabinet Refacing – New Doors
Countertop selection and installation – Quartz, Granite, Natural Stone, Wood & Everything In-Between
Backsplash design and installation
Flooring installation
Lighting and electrical upgrades
Outdoor Kitchens
Space Optimization
Anything not listed above… We do that too!
Turn Your Dreams Into a Reality
Schedule Your Free Onsite Design Consultation Today